PriceLenz is a new class of price optimization solution. Focused on price optimization and execution to maximize sales revenue, it's an easy-to-use, cost-effective, maintenance-free, reliable, scalable and a secure means of finding the 'right' price to offer every time.
---
PriceLenz will connect you with the pricing information you need to make smarter pricing decisions to maximize revenue.
PriceLenz analyses past sales to establish where the optimum, maximum revenue price point is per product and empowers sales professionals to instantly discover how any price impacts the purchase probability and the potential for more revenue. It's price optimization to maximize sales revenue, at the touch of a button.



Boost revenue
Easily identify the optimal sales price for product and buyer combinations.

Sales intelligence
Enter any price and discover the probability of making the sale.

Valuable insight
Identify revenue potential opportunities and stop revenue leakage.

Access anywhere
Pricing technology at your fingertips, wherever you are, whenever you need it.
'What price should a sales professional offer to close the deal without leaving money on the table?'
PriceLenz helps to answer that question by calculating the 'optimal' sales price, which will maximize the revenue for a specific product or service. The optimum price isn't where 100% of the market is willing to pay, it's at the point where the market yields the most revenue. PriceLenz takes the guesswork out of the prices sales professionals offer.

Businesses can unfold their revenue potential
PriceLenz goes beyond mere sales analytics and focuses on actionable optimization so businesses can unfold their full revenue potential. With it, sales professionals can instantly discover how any price impacts the potential for more revenue and the purchase probability.
It empowers businesses to improve sales figures easily and without changing the way they operate. Central pricing teams can now take informed decisions about optimal price definition and salespeople in the field, at just the touch of a button, can quickly fine-tune offers for each individual sales opportunity.
PriceLenz adds value to sales instinct and reveals revenue maximizing price points.
The objective with PriceLenz is to support sales intuition by helping the salesperson to avoid selling above or way below the price the customer is willing to pay. This is done by using sophisticated, though invisible, mathematical algorithms hidden inside the PriceLenz optimization engine.
PriceLenz empowers salespeople to understand the impact of variable price points on the likelihood of a successful deal and how close each price point is to achieving the maximum revenue possible. It empowers sales professionals to make informed decisions and supports their instincts with hard facts.

Science-based decision making
With PriceLenz, businesses can now move from the experience-based price setting to a more sophisticated level of science-based decision making with respect to price definition, both centrally and in the field. Businesses can adjust their sales actions and gain additional revenue using a variety of strategies, from price fine-tuning during the last mile of sales, through to price catalogue optimization.
Businesses from any industry can discover optimal pricing to maximize sales opportunities and boost their revenue.
Every industry has its own particular challenges, however you won't find many where revenue maximization is of no value. In cases when sales professionals can customize their sales prices or offer different prices depending on the customer type, PriceLenz is invaluable.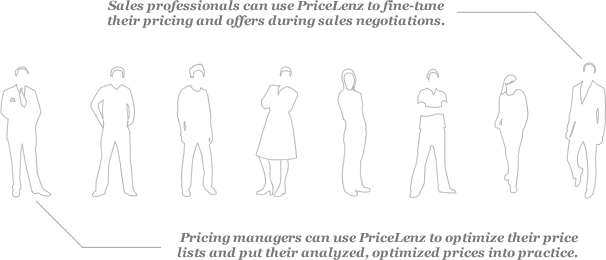 Price optimization tools for every business
In fact, in any industry where sales professionals are unsure about which offer price is going to maximize revenue or aren't sure about the probability of a price being accepted by the buyer, PriceLenz can help. PriceLenz is a horizontal price optimization solution targeted at several industry sectors such as:
Banking & Financial Services
Insurance
Healthcare
Telecommunications
Energy & Utilities
Industrial & Manufacturing
Are you looking for a cost-effective, maintenance-free, reliable, scalable and secure means of establishing optimum prices?
Hosted in the cloud, PriceLenz can offer the ultimate flexibility and value. Businesses do not need to invest in any hardware, nor employ integrators to set up the system and they can sign up for the service online. Once sales information is uploaded to the system, the service can instantly calculate optimum pricing levels from day one, and it's so user-friendly and intuitive that it can be used immediately.

Designed to accelerate value
By combining the power of analytics and optimization, the accessibility of mobile, the flexibility of the cloud and its low cost, PriceLenz is an invaluable price and discount optimization tool that businesses won't stop using once they've tried it.