Boost revenue, optimize spending, drive profitability and achieve sustainable growth.
PriceLenz supports both strategic and tactical decision-making, so that businesses can boost top line results and define pragmatic reliable strategic objectives based on factual insights and revenue opportunities. At the same time, by eliminating spending on unnecessary actions, which do not generate results, businesses can increase efficiency and profitability.

On the strategic side, PriceLenz uncovers revenue opportunities, such as leakage and potential, at product level. On the tactical side, businesses can move from experience-based marketing and sales to a more sophisticated level of fact-based decision-making.



Boost revenue
Make informed decisions to eliminate revenue leakage and leverage revenue potential. Identify which products to invest in and which ones to drop.

Market precisely
Precisely select customers, products and channels for laser-sharp marketing. Spend 'just enough' only on activities related to promising products and customers.

Sell efficiently
Quote and sell one-to-one, with more confidence, based on facts. Automatically adapt prices in e-commerce, in line with customer behavior.

Use flexibly
Choose your preferred deployment option to match your current and future needs, from hosted enterprise cloud to private cloud, PriceLenz is expandable and easy to integrate.
'How can we offer products that appeal to each customer, and become more efficient?'
Some marketing approaches can have a reduced ROI. Not knowing which products best fit each customer leads to inefficient use of marketing budget, which results in over or under budgeting campaigns and marketing actions.

Laser-sharp marketing
PriceLenz empowers marketing teams to scientifically target customers, efficiently use budgets and boost revenue. They can identify products with revenue leakage and start tackling the underperforming products, and, they can identify customers with revenue potential and locate suitable products to offer them. Based on revenue targets and channel utilization, PriceLenz can calculate campaign costs, leads and customer acquisition.

Above all, marketing managers can take informed decisions about their campaigns, and at the touch of a button, predict campaign performance and optimize their tactics and budget through robust 'what if' scenarios and predictive analytics capabilities.

'What price should we offer each customer to quickly close the deal without sacrificing revenue?'
PriceLenz helps to answer that question by calculating the 'optimal' sales price, which will maximize the revenue for a specific product or service. The optimum price isn't where 100% of the market is willing to pay, it's at the point where the market yields the most revenue. PriceLenz takes the guesswork out of the prices sales professionals offer.

PriceLenz reveals revenue maximizing price points
The objective with PriceLenz is to support sales intuition by helping the salesperson to avoid selling above or way below the price the customer is willing to pay. It empowers salespeople to confidently approach each customer without sacrificing attainable revenue, whilst protecting the customer relationship during sales negotiations.

PriceLenz empowers salespeople to understand the impact of variable price points on the likelihood of a successful deal and how close each price point is to achieving the maximum revenue possible. And e-commerce operations can benefit from instant, automatic adaptation of pricing and discounting for optimal alignment with customer behavior.
Taking into account the latest transactions every split second, PriceLenz ensures e-commerce operations are always up-to-date and in line with prevailing market conditions long before the competition can react.

Businesses from any industry can market precisely and sell efficiently to boost their revenue.
Every industry has its own particular challenges, however you won't find many where revenue maximization is of no value. It's the next step after cost-cutting initiatives. With PriceLenz, businesses can now move from the experience-based decisions to a more sophisticated level of science-based decision making with respect to price definition, marketing efficiency and planning.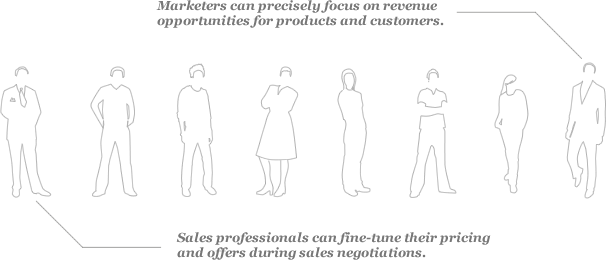 Revenue boosting for every business
Businesses can adjust their sales and marketing actions and gain additional revenue using a variety of strategies, from marketing precisely, through to price fine-tuning during the last mile of sales. PriceLenz is a horizontal price optimization solution targeted at several industry sectors such as:
Banking & Financial Services
Insurance
Healthcare
Telecommunications
Energy & Utilities
Industrial & Manufacturing
Are you looking for a cost-effective, maintenance-free, scalable and secure means of optimizing marketing and sales functions?
Hosted in the cloud, PriceLenz can offer the ultimate flexibility and value. Businesses do not need to invest in any hardware, nor employ integrators to set up the system and they can get started with a revenue potential health check. Once sales information has been analyzed by the system, PriceLenz can optimize critical business functions from day one, and it's so user-friendly and intuitive that it can be used immediately.
Businesses can unfold their revenue potential
PriceLenz goes beyond mere sales analytics and focuses on actionable optimization so businesses can unfold their full revenue potential. With it, marketers can focus on revenue opportunities for products and customers, and sales professionals can quickly fine-tune offers for each individual sales opportunity.
With the help of PriceLenz, businesses can learn how much potential there is for more revenue and be in a position to focus on what matters most and make more informed strategic decisions about where the business should be heading. By locating and quantifying products with revenue leakage, as well as products with revenue potential, businesses can draft their strategic plan, define objectives and targets, and concentrate their efforts on directions and operations that make sense.


Start with a revenue potential health check
We can identify revenue leakage and uncover revenue opportunities. For a limited period, we're offering a free eligibility check.
PriceLenz is a cost-effective, reliable, scalable and secure solution for making strategic and tactical decisions. Businesses can count on PriceLenz to make better, faster and more informed decisions and thus pragmatically boost revenue and profits with less effort and resources.